The Unpainted Aristocracy has provided a porch rocker's view of history. Under eaves furred by a century of salt spray, the families of Nags Head watched as Union troops marched into Nags Head, using the hotel as a headquarters and dismantling All Saint's Chapel for use as a shelter for runaway slaves. They waded through chest-high hurricane waters in 1899 and 1933, lined the road in 1937 as a president visited and later darkened their windows as ships burned off shore during World War II. They battled ceiling-high sand in 1962 after the Ash Wednesday northeaster and today fight a continuing battle against the often-fierce Atlantic to the east.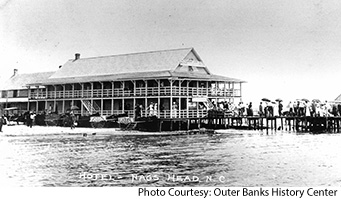 The vacationers who were first to build cottages along the oceanfront lived in virtual isolation for nearly 100 years. They packed their bags for home on Labor Day and, because most structures among the Unpainted Aristocracy had no heat, they didn't return until Memorial Day the following summer. Though pockets of cottages and mom and pop hotels sprang up along N.C. 12, there was little development around Nags Head until the 1960s. Families who had grown up along the cottage line began to mushroom, some members building new cottages nearby. And early in the 1970s, real estate developers from Ocean City, Maryland, began spreading the word about the pristine Outer Banks, both as a place to get away from it all and as a destination to explore the state's history.
Modern Life Brings Change to Nags Head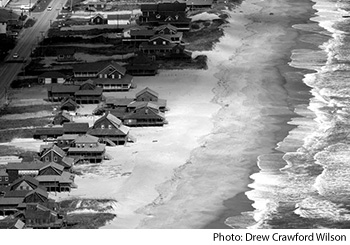 Modern life soon converged. Hundreds of new cottages built both north and south of Cottage Row now brought with them opportunities to enjoy North Carolina's coast through three temperate seasons. Visitors to Nags Head could buy trendy fashions at one of the dozens of shopping centers, attend a movie and enjoy a gourmet dinner out. Visitors are within an hour's drive of Cape Hatteras and just minutes away from Jockey's Ridge State Park and the Wright Memorial. Within short driving distance are several historic lighthouses, Roanoke Island with its many attractions including the N.C. Aquarium, the Elizabethan Gardens, Island Farm and the famous Lost Colony outdoor drama.
Current day, Nags Head is synonymous with Outer Banks vacationing. Many people say they're coming to Nags Head on vacation even if they really staying in nearby Kill Devil Hills or Kitty Hawk. Today, visitors can choose from literally thousands of vacation rental homes for their stay, from palatial to cozy. Restaurants serving everything from world-class cuisine to humble hamburgers permeate the town. Shopping is king, with outlet malls and hundreds of family-owned, individual shops. And the wonders of Mother Nature keep vacationers (and locals!) ever happy and active. Change has definitely come to this small NC coastal town, but town leaders have worked hard to maintain open spaces and reasonable growth.
Cottage Row, however, has remained much the way it was 75 years ago. Though all the structures now have running water, many don't have heat and are air-conditioned the Nags Head way — by the ocean breeze. Into the 21st century, the cottages of the Unpainted Aristocracy continue to be the summer homes to some of North Carolina's oldest families, many of whom gather to preserve a tradition begun five generations before. Though fire, age and even flooding hurricanes have claimed a few among their ranks, many have by design withstood time, wind and change. Nine of the original baker's dozen Nags Head cottages still stand, and others join them, facing the breakers with majesty and history, their graying shingles marking time between the tides, their porch steps welcoming new generations of families summer after summer.